Online:Falice Menoit
The UESPWiki – Your source for The Elder Scrolls since 1995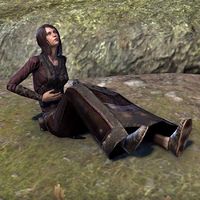 Falice Menoit is a wounded Breton and member of the Spirit Wardens found at the Pariah Abbey. She is a healer who was attacked by Midnight Union members.
Related Quests
[
edit
]
Dialogue
[
edit
]
"Please you have to help me.

The Midnight Union bandits. I don't know why. I was no threat to them. They attacked me anyways."
Do you need a healer?
"No. No, I am a healer. I can take care of myself. it's the others. So many of my fellow wardens are injured.

I was trying to help them, but I-I can't really go on."
What do you need me to do?
"Take these poultices. It should at least help them get on their feet so they can get to safety."
I'll help the injured and then come back to check on you.
After accepting the Injured Spirit Wardens quest:
"You have a gentle and generous spirit, stranger. Thank you for helping us."
Upon a successful return:
"I saw many of my fellow wardens make it to safety. Thank you.

It's so ironic that we rely on a stranger's help after being attacked by those we considered friends."
I'm glad I could help. How are you?
"Thank you for asking. I'm feeling better already. It's certainly a relief to know the other Wardens are safe.

I'll be able to get back to the abbey soon. Perhaps I'll see you there."
After completing her quest:
"I've used the same poultice on myself that you used on the other wardens. I should be fine.

Seriously, don't worry. Go on now."