Online:Elolir
The UESPWiki – Your source for The Elder Scrolls since 1995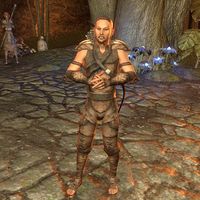 Elolir is a Bosmer and one of the few survivors of the Daedra attack on the city of Whisper Grove. He is commanding Grove Archers and Protectors, and can be found near Laeneval.
Related Quests
[
edit
]
Dialogue
[
edit
]
He may be heard commanding the troops against the Daedra:
Elolir: "Here they come!"
Elolir: "Ready!"
Elolir: "Fire!"
When you speak to him:
"Gilraen's our leader. She speaks for us."
During the quest if you choose to bring one Elolir along to help you deal with the north and south fronts:
"So you'll fight with us?
Let me know if you need an extra bow, I'm itching to leap into this fray."
Come with me. I could use you.
"Very well. I'm eager to reclaim our home."
Let's clear the Daedra out of those fronts.
Elolir: "Let's get in the fight."
Talking to him here:
"(?)"
After dealing with one of the fronts:
"There's one more front to deal with.
You face Daedra with an ease I've never encountered! Have you fought them before?"
After dealing with both fronts:
"By the Green Pact those Daedra were powerful!
I fear what Gilraen and the others are facing at the central barrier. Perhaps we should return to help."