Online:Doriel
The UESPWiki – Your source for The Elder Scrolls since 1995
Doriel
Home Settlement
Bramblebreach
Race
Bosmer
Gender
Female
Health
25974
Reaction
Justice Neutral
Pickpocket
Hard
Profession
Alchemist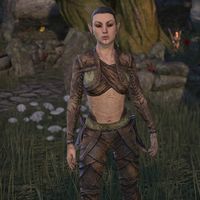 Doriel is a Bosmer alchemist found in the town of Bramblebreach.
Dialogue
[
edit
]
What do you do here in Bramblebreach?

"I mend, fix and build things around the village. Like the stone walls, paths and torches.
I also look after Elengil. She's the oldest living member of this tribe."

Tell me about Elengil.

"She's like the tribe's grandmother. Her own grandmother was one of the first Bosmer to move into the Court of the Wilderking.
If you come across her speaking to thin air, she's just talking to the Elders of Bramblebreach."

What can you tell me about the Wilderking?

"We owe him much. He crafted these houses for us long ago. We never go hungry. He always looks out for us.
And his blood runs through the land."

How does his blood run through the land?

"Forgive me, I mispoke. He is the land. The sap within the trees, the water in our ponds and lakes, this is his blood. The stones and soil are his skin. Trees are his hair and veins; his heart and his mind."