Online:Do'mazir
The UESPWiki – Your source for The Elder Scrolls since 1995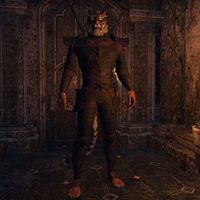 Do'mazir is a Pahmar-raht thundermaul found at the Black Kiergo Arena in Senchal.
Related Quests
[
edit
]
Quest-Related Events
[
edit
]
Upon approaching the entrance to the Black Kiergo, you overhear a conversation between Caska and the bouncer.
Do'mazir: "Caska the Unconquered, in the fur! This one knew you would return one day."
Caska: "I'm not here to fight. We seek entrance, nothing more."
Do'mazir: "We? Ah, you brought a friend! Come, friend of Caska. Introduce yourself."
Speak with him.
"Why do you wish to enter the Black Kiergo, friend of Caska? Are you looking for a fight?"
That depends. Is the Order of the New Moon recruiting today?
"Ah, so that's your angle.
There may be such an individual present, yes. But the arena is awfully full. He doesn't know if he can squeeze you onto the docket."
Is there any way you'll let me in?
"Well, this one would certainly make room for Caska the Unconquered. There are many who wish to see her fight again.
Convince Caska to fight and you can both enter. A good deal, no?"
You can ask him more about the Black Kiergo.
"You want to enter the arena? Convince Caska to join you. That's the only way you're getting in."
Tell me more about the Black Kiergo Arena.
"There's always a fight going on in the Black Kiergo. Some come to watch, some come to bet, some come to compete.
Today's battle is to the death. You walk out victorious or you don't walk out at all."
And what's the Order of the New Moon doing here?
"Master Shirnama has the privilege of hosting today's match. According to him, whoever wins will earn a great boon from the Order of the New Moon. What that boon is? No idea.
You'll just have to enter the match and find out."
Caska agrees to fight:
Caska: "All right, you muskarse. I'll fight."
Do'mazir: "This one had a feeling you would come around."
Speaking to him again:
"Caska the Unconquered, back in the fight! This one may need to end his shift early."
You will face him in the arena during round four alongside Jiren-dar.
Do'mazir: "Finally, a chance to defeat Caska the Unconquered! Do'mazir has been waiting for this."