Online:Cinia Vinipter
The UESPWiki – Your source for The Elder Scrolls since 1995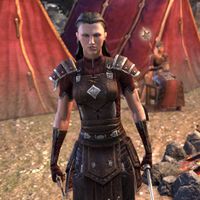 Cinia Vinipter is an Imperial warrior found at the Dragonstar Arena. She is a member of the Diamond's Daughters, and is frustrated that they have to wait to fight.
Dialogue
[
edit
]
She will say one of the following:
"That's it! I'm done waiting! I'm going to march in there and demand they let us compete. We're the Diamond Daughters, for Akatosh's sake!
Imperial Legionaries don't wait in line for a battle. It's just not done!"
"I hate waiting around! I didn't march half-way across Cyrodiil to fight practice mannequins!
If we don't get to kill something soon, I might have to go pick a fight with the Blood Feathers!"
"The Captain really thinks we can bring Imperial Law to this backwards region? That'll be the day! When pigs fly, I say."
"The Captain frowns upon loose talk, but I heard the Arena uses some powerful magic. Some kind of glamours they turn on and off like lanterns. Be ready for anything in there. I know I am!"