Online:Captain Hjolm
The UESPWiki – Your source for The Elder Scrolls since 1995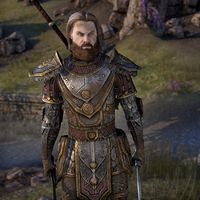 Captain Hjolm is the Nord captain of Fort Arand. He is worried about reports of Daggerfall Covenant soldiers nearby and asks you to investigate.
Related Quests
[
edit
]
Quest-Related Events
[
edit
]
"Stranger, I'm surprised to see any friendly faces out here.
Did you meet any Covenant soldiers on the road?"
Is something wrong?
"There's a small force of Covenant soldiers in a camp to the northwest. I can feel it in my bones: they're planning a flanking attack.
I need to get back to Fort Arand and ready the recruits there for a possible skirmish."
I could scout the camp. What should I look for?
"Shor's bones, you're a brave one! If you can make it out alive, put steel or spell to the commanders in the encampment. They're the ones most likely to have a copy of their orders.
Then head for the gates of the fort."
I'll meet you at Fort Arand with the orders.
"Travel to the northwest and look for Covenant activity.
Find out why they're here and what they're planning. Go swiftly, and go carefully."
What can you tell me about Fort Arand?
"We train troops and store provisions here.
Why the Dark Elves built a fort against the mountains, I'll never know. What's it protecting? The mountains? Dunmer! I'll never understand them."
When you return from your mission, you will find Captain Hjolm dead.