Online:Antonia Gratas
The UESPWiki – Your source for The Elder Scrolls since 1995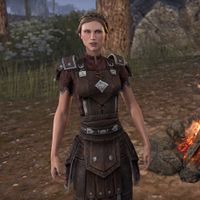 Antonia Gratas is an Imperial merchant who can be found running the Sixth Legion Surplus stall near the Mountain Overlook Wayshrine. She is actually a member of the Imperial Legion, and is attempting to follow Legion protocol by selling off military surplus in order to pay her way back to Cyrodiil.
Dialogue
[
edit
]
"Antonia Gratas. Sixth Legion ahorse.
I have some items you might find useful. Purchase something or be on your way."
You're a long way from Cyrodiil.
"Yes, I am. A situation I aim to remedy in short order.
It would help if you actually purchased something instead of yammering on about the obvious."
Isn't this Legion property?
"In the even of a crisis behind enemy lines, a legionnaire may sell excess material to noncombatants. Such material must have no significant military application. Gold acquired in this manner must be used to secure swift passage back to the Legion."
You have that memorized?
"The rules pertaining to capture and imprisonment are mercifully short.
Now buy something and be on your way. I don't want to linger in this place any longer than is absolutely necessary. I try to avoid standing near lightning and floating rocks."