Oblivion:Yellow Tick Cave
The UESPWiki – Your source for The Elder Scrolls since 1995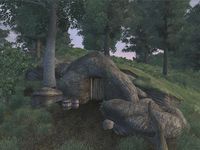 Yellow Tick Cave is a medium-sized cave between the Imperial City and Chorrol containing conjurers. It contains two zones: Yellow Tick Cave and Yellow Tick Hollows.
Exterior
[
edit
]
The exterior is located at coordinates: Tamriel -6, 20
This location's map marker (M on map) is named Yellow Tick Cave (editor name YellowTickCaveMapMarker). The entrance door is SSW of the marker, 60 feet away.
2 Wilderness Creatures (Forest variety) are near the entrance
The following plants can be found near the entrance: 6 Fly Amanita plants, 8 Green Stain Cup plants, 17 Monkshood plants, 2 Morning Glory plants, and 12 Summer Bolete plants
Zone 1: Yellow Tick Cave

[

edit

]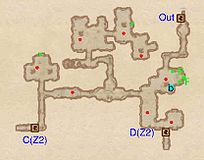 The first zone of Yellow Tick Cave is pretty much linear, with a few small passages branching off from the main one. There are two doors (C and D) that lead to the next zone. There is no major distinction between them, except for that door C leads nearly directly into the center of the enemies in that area, while door D takes a more inconspicious approach.
Occupants:
Treasure:
1 Chest 01 (locked)
1 Chest 02
1 Chest 04
The following alchemy equipment will always be found: 3 Novice Alembics, 1 Novice Calcinator, 2 Novice Mortar & Pestles, and 6 Novice Retorts
The following ingredients will always be found: 2 Lettuces
The following plants will always be found: 5 Wisp Stalk plants
Some of the above items are clustered at the following locations:

At E: 2 Novice Alembics, 1 Novice Mortar & Pestle, and 4 Novice Retorts
At F: 1 Novice Alembic, 1 Novice Calcinator, 1 Novice Mortar & Pestle, and 2 Novice Retorts
Doors and Gates:
There are three doors in/out of this zone
Other:
1 bedroll at location b on map
Zone 2: Yellow Tick Hollows

[

edit

]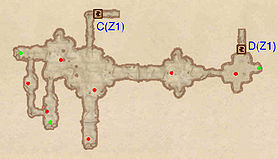 Depending on which door you came in, you will either face one enemy or several at the same time. The two doors lead back to the first zone, but door D is nearer to the exit in the first zone.
Occupants:
Treasure:
Doors and Gates:
There are two doors (at C and D) in/out of this zone, both leading to the zone Yellow Tick Cave