Oblivion:Silverhome on the Water
The UESPWiki – Your source for The Elder Scrolls since 1995
Inn:
Silverhome on the Water


Room
20
Publican
Gilgondorin
Console Location Code(s)
BravilSilverhomeonthewater, BravilSilverhomeonthewater2ndFloor, BravilSilverhomeonthewater3rdFloor
Location
Bravil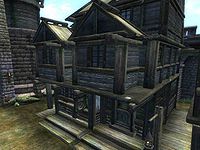 Silverhome on the Water is an inn located just inside of Bravil's gate. It is found adjacent to the gate, across the street from the building which consists of S'krivva's and City-Swimmer's houses and next to The Fair Deal.
The publican, Gilgondorin, buys potions and food while only selling the latter. The ground floor contains the reception area, a bar with a counter, and a dining room, while the rooms are upstairs.
The room you can rent is on the second floor; the second to the right, just before the stairs. It is small and filthy, with a lower class bed and table. The other rooms aren't particularly better: the first on the right is locked and contains a lower class bed which you can sleep in. The one on the left, also locked, consists of two lower-class single beds, which are also free to sleep in. The third floor, which is locked, contains two other rooms: the one on the right contains two lower-class single beds and a Nirnroot plant, while the other, which is also locked, consists of two middle-class single beds. Unfortunately, none of these are free to sleep in.
Related Quests
[
edit
]
Occasionally, Bravil citizens can be heard saying:

"I don't think that Gilgondrin really wants to run Silverhome-on-the-Water. He never seems happy when he's there."
"Gilgondrin inherited Silverhome from his parents. I understand he only runs it out of a sense of duty."

A handbill advertising the inn is listed in the Construction Set, but cannot be found in-game. It would have read: "When your mother-in-law comes to visit, put her up at Silverhome-on-the-Water. We offer moderately priced, clean rooms. Chamberpots are available for a small fee."