Oblivion:Palace Guard
The UESPWiki – Your source for The Elder Scrolls since 1995
This page or section is incomplete. You can help by adding to it.
lacks individual stats and detailed inventories
For more information, see the help files, the style guide, and this article's talk page.
For information on the Palace Guard class, see NPC Classes.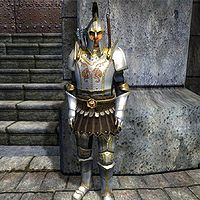 Imperial Palace Guards can only be found in the Green Emperor Way district of the Imperial City. They guard and patrol the area around and inside White Gold Tower and behave very much like Imperial Legion guards. They are usually armed with silver longswords or claymores and all of the guards are armored in full sets of Imperial Watch armor, which (except for the shield) cannot be looted. Other than their armor, they are exactly the same as normal guards in their attributes and skills.
They take many opportunities to warn you about being courteous in Green Emperor Way. Here are some of the things they say:
"Please show respect for the Imperial Palace by keeping your voice down."
"All citizens are welcome in the Imperial Palace, at least on the first two floors."
"Remember, trespassing in the Imperial Palace is a serious crime. Do not venture beyond the first and second floors."
"All visitors to the Imperial Palace are asked to keep their voices down, especially if the council is in session."
Beyond the Guards quarters, the Palace guards become aggressive. They are easily identified since they carry a fine steel sword instead of a silver longsword. They are only encountered in the last Thieves Guild quest, The Ultimate Heist.
ID(Day)
ID(Night)
Post
0010D759
00115DF9
Elder Council Chambers
00115DF6
00115DFA
Elder Council Chambers
00115DFB
00115DFC
Elder Council Chambers
00115DFD
00115DFE
Elder Council Chambers
0006E632
Crypt Door
ID(Day)
ID(Night)
Patrol
00115DF7
00115DF8
Elder Council Chambers
0004A2BF
Green Way
000C7619
Green Way
0006E629
Crypt
ID
Location
000666FF
Guard Quarters (asleep)
000666E7
Guard Quarters (asleep)
000666E9
Guard Quarters (asleep)
000666EB
Guard Quarters (asleep)
000666EC
Guard Quarters (asleep)
0006653F
Library*
0006653D
Library*
00181D1E
Chancellor Ocato's Chambers*
(*)These Guards are aggressive and will attack you on sight