Oblivion:Nagastani
The UESPWiki – Your source for The Elder Scrolls since 1995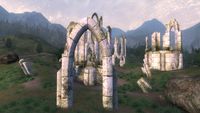 Nagastani is a medium-sized Ayleid ruin between the Imperial City and Cheydinhal containing monsters and undead. It contains two zones: Nagastani and Nagastani Sedorsel.
Exterior
[
edit
]
The exterior is located at coordinates: Tamriel 20, 16
This location's map marker (M on map) is named Nagastani (editor name NagastaniMapMaker). The entrance door is NE of the marker, 120 feet away.
2-3 Mud Crabs are near the entrance
The following plants can be found near the entrance: 10 Water Hyacinth plants
Zone 1: Nagastani

[

edit

]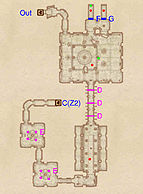 This zone contains more traps than enemies; your first taste are the three Swinging Blade traps (D) found in the corridor connecting the two main rooms. These are actually quite easy to pass through since only one blade per trap will be swinging. In the first chamber are two Hidden Doors at F and G which will open once you are close enough. Behind them are two enemies and a minor loot chest. The last two rooms contain four Gas Traps (E) each, these can be easily bypassed by sticking to the walls of the rooms.
Occupants:
Treasure:
1 Ayleid Cask 01 (locked)
14 Welkynd Stones. 6 are in the first large room; 5 on easily reachable pedestals and 1 on the floor next to the base of the pedestal. The other 8 are in the second, rectangular shaped room; all on easily reachable pedestals.
Traps:
Doors and Gates:
There are two doors in/out of this zone
2 Hidden Doors at F and G
Zone 2: Nagastani Sedorsel

[

edit

]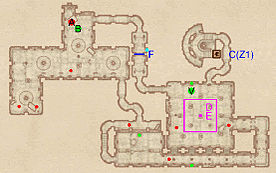 The first large room is quite tricky: a large Gas Room trap (D) is in the middle of the room and fighting the two enemies without getting trapped inside can be challenging. A Varla Stone (V) can be found in an alcove in north side of the room. From this chamber, two paths depart: up the stairs to the right leads to gate F, which unfortunately only opens from the other side (cyan dot on map). Heading left is therefore the only viable option. You will eventually end up in a large chamber containing the Boss chest (B); which is guarded by the boss-level Monster (A) and up to three other enemies.
Occupants:
1 boss-level Monster at location A on map
7 Monsters
Treasure:
Traps:
Doors and Gates:
There is one door (at C) in/out of this zone, leading to the zone Nagastani
1 Iron Gate (opened remotely) at F