Oblivion:Ghorub gro-Ugdub
The UESPWiki – Your source for The Elder Scrolls since 1995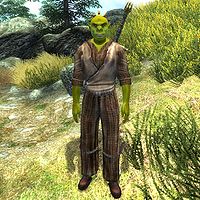 Ghorub gro-Ugdub is an Orc marauder and a devout worshipper of the Daedric prince Malacath. He can be found with his fellow worshippers Mug gro-Murgak and Shobob gro-Rugdush at Malacath's Shrine.
He will spend all his time near the shrine, either wandering around or sitting on one of the benches. He never pauses to eat or sleep.
He wears a coarse linen shirt with coarse linens and a pair of leveled light boots. He carries a leveled blade and a pair of oiled linen shoes as well.
If you attempt to talk to him before you have started Malacath's quest he will refuse to talk to you saying, "Were you invited? I didn't invite you."