Oblivion:Bleak Mine
The UESPWiki – Your source for The Elder Scrolls since 1995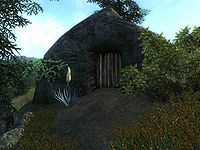 Bleak Mine is a small silver mine north of Anvil containing NPCs (quest-related). It contains only one zone, Bleak Mine.
Related Quests
[
edit
]
This cave requires a key until you start the related quest; after Malacath's speech, the lock will change into a leveled lock and the Bleak Mine Key will spawn on a table inside Lord Drad's Estate.
There are several possible strategies to free the enslaved ogres (see the quest page for details).
Exterior
[
edit
]
The exterior is located at coordinates: Tamriel -47, 0
This location's map marker (M on map) is named Bleak Mine (editor name BleakMineMapMarker). The entrance door is NNE of the marker, 40 feet away.
A Wayshrine of Arkay is at location W on the map
The back door entrance to Fort Sutch is at location C
Lord Drad's Estate is at location D while two Slave Quarters are at locations F and G
Zone 1: Bleak Mine

[

edit

]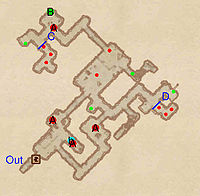 Your main objective is to free Malacath's ogres from slavery; there are six imprisoned ogres, divided into two cells, three ogres in each. It is most likely that the patrolling guards will detect and attack you, unless you have a very high Sneak skill. Note that when you free the ogres, they will help you dispose of the guards.
Upon entering from door Out, you are immediately confronted with one or two Bleak Mine Guards and their Captain at A, so be prepared. All the guards here carry the key to the northwestern cell door at C, but it is possible to avoid them by sneaking into the first tunnel to the right and, if you did not encounter him in the first room, fight or avoid another Guard at A. If you want the keys to both cells, take a left at the first intersection and claim them from the two lower-leveled Guards in the big central room. Locate the rusty cell door at D, free the first three ogres and watch them run towards the remaining guards. Loot the chest near the cell, make your way to the other cell at C and free the last ogres. While the ogres fight the guards, pry open the boss-leveled chest at B, claim the contents from the two remaining minor loot chests (green dots on map), then exit the mine the same way you came.
Occupants:
Treasure:
Doors and Gates:
Other:
1 bedroll at location b on map
The ore veins contain silver despite Lord Drad's dialogue stating that his ogres are there to mine gold.