OBMobile: The Troll King
The UESPWiki – Your source for The Elder Scrolls since 1995
| | | | | |
| --- | --- | --- | --- | --- |
| |   | Slay the Troll King for handsome loot. |   | |
Quick Walkthrough
[
edit
]
Open the Large Trapdoor in the Sewers during Recover The Amulet.
Find the note on the fresh skeleton.
Find the Troll King in the Lower Sewers and kill him.
Detailed Walkthrough
[
edit
]
The Trap Door
[
edit
]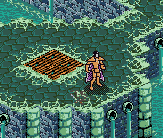 In the Sewers during Recover the Amulet, a large trap door can be seen as you first advance. After killing the Mythic Dawn on top, you can activate it to enter the Lower Sewers.
A Fresh Skeleton
[
edit
]
Upon entering the Lower Sewers the Champion will find a fresh skeleton with a bloodied note. The note refers to a Troll King and the Champion suspects coin and other loot will accompany him.
The Maze
[
edit
]
The lower sewers is a 3 level maze with a number of Trolls and Chests. You enter each level via a small trap door. It is not necessary to kill any Trolls, except the Troll King. On the second level the Champion will mention an "overpowering" smell when he finds the trap door to the third level.
The Troll King
[
edit
]
The Troll King can be found on the third level. He appears as any other Troll, but is much stronger. He attacks from a fixed position and doesn't follow you. Once he is defeated, you will receive (?) and will be immediately returned to the Sewers.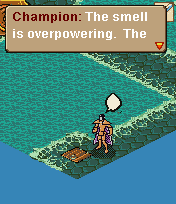 Once The Troll King is started, you cannot return to Recover the Amulet until the Troll King has been defeated; if you return the entrance, the Champion will mention he has a feeling that, should he leave the Lower Sewers, he will not be able to return again.
Because the Troll King doesn't move about, one can simply attack him, move away and recharge.