Morrowind:Skull Crusher
The UESPWiki – Your source for The Elder Scrolls since 1995
This article is about the artifact. For the Imperial Cult quest, see Skull-Crusher.
Artifact: Skull Crusher

(warhammer_crusher_unique)


(lore page)
Type
Blunt One Hand
 Damage
Chop
10−60
Slash
10−50
Thrust
7−10
Ratio
60
Statistics
 Health
8,000
Speed
1.0
Reach
1.0
 Weight
15
 Value
48,000
Enchantment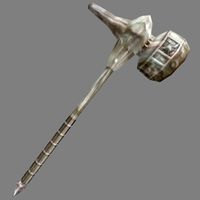 The Skull Crusher is an amazingly large, and powerful weapon. The Warhammer was created in a fire, magically fueled by the Wizard, Dorach Gusal, and was forged by the great weaponsmith, Hilbongard Rolamus. The steel is magically hardened and the weight of the weapon is amazingly light, which makes for more powerful swings and deadly blows. The Warhammer was to be put on display for a festival, but thieves got it first. The Skull Crusher still travels Tamriel in search of its creators. —Yagrum Bagarn, Tamrielic Lore
Skull Crusher is one of the harder weapons to obtain. This warhammer is located in the Forgotten Vaults of Anudnabia, Forge of Hilbongard, which can only be accessed via the Omaren Ancestral Tomb (east of Sadrith Mora), in an enchanted chest hovering above the lava pool. It is found during an Oracle's Quest for the Imperial Cult. The weapon's constant feather effect cancels its weight when equipped.