Morrowind:Raflod the Braggart
The UESPWiki – Your source for The Elder Scrolls since 1995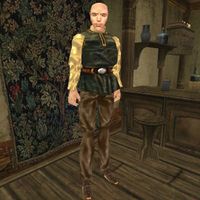 Raflod the Braggart, a Nord scout, is a Wet Ear for the Thieves Guild. Raflod the Braggart can be found at Arrille's Tradehouse in Seyda Neen, and offers medium training in Medium Armor and minor training in Long Blade and Block.
He is wearing a common shirt, pants and shoes and carries a steel broadsword and a small amount of gold. Aside from his natural resistance to shock, immunity to frost, ability to shield himself, and a natural frost damage spell, he knows no spells.
If you ask him about the latest rumors, he will say: "A friend of mine says you HAVE to visit the House of Earthly Delights in Suran!"