Morrowind:Boderi Farano
The UESPWiki – Your source for The Elder Scrolls since 1995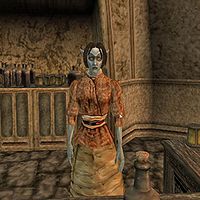 Boderi Farano, a Dark Elf publican, is the owner of the Ald Skar Inn, found in the northwestern corner of Ald'ruhn, between the Council Club and Under-Skar. There she sells food, drinks, and beds to all visitors. She will provide you with a tip on how to earn the respect of Hassour Zainsubani, a regular at the inn.
She is wearing a common shirt with a matching skirt and shoes. Aside from her natural resistance to fire and the sanctuary provided by her ancestors, she knows no spells.
Dialogue
[
edit
]
(Disposition at least 40) "Good day. I'm Boderi Farano, publican of the Ald Skar Inn here in Ald'ruhn. We rent beds, and I have a limited selection of goods for barter. If you're new here, I can also tell you where to look for other services, or a specific place nearby. If you're looking for someone in particular, I may be able to help."
"Very well. Go down the stairs, and use the first room on your right. It's yours for the next day." (Disposition up by 2) (You lose 10 gold)
"He's a trader, and a wealthy one. He has his own room here. He was born an Ashlander, and knows their speech and custom, and has grown rich by trading with them for the things prized by Westerners. Is that what you wanted to know?"
"What sort of gift would he like? What indeed. He is so rich, I don't know.... Perhaps a book. His room is filled with them. I've seen them when I clean. They are all over the place."
Negative numbers indicate restocking items.
Items in bold are Leveled Lists. Click on them to learn more about what they may contain.