Lore:Bantha
The UESPWiki – Your source for The Elder Scrolls since 1995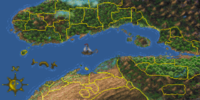 The Bantha, or the Banthan Jungle,[1] is a region found in the Iliac Bay, in the province of Hammerfell.
The precise location of the Bantha is unknown; however, it is considered part of the Iliac Bay. The people of the Bantha are known to celebrate two holidays. Aduros Nau is celebrated on the 28th of Sun's Dawn to commemorate the transition from the winter, and the Feast of the Tiger is observed on the 14th of Last Seed. Though the Feast of the Tiger presumably originated as a means of venerating an obscure Tiger God, it is now their thanksgiving.[1]
The Lainlyn holiday Riglametha translates into "grateful-offering" in the Banthan dialect of the Old Redguard language. It is a festival which serves to thank the gods for their blessings.[2] The Barony of Lainlyn is found in a forested area of the Iliac Bay, east of the Dragontail Mountains.
The Bantha is one of several names of regions that are not assigned to a province in TES II: Daggerfall, and so they are believed to be unused in-game.
References
[
edit
]