Legends:Divayth Fyr's Trials
The UESPWiki – Your source for The Elder Scrolls since 1995
Divayth Fyr's Trials is the third Houses of Morrowind Puzzle Set, released on April 5, 2018.
Completing the puzzle set earns you the Divayth Fyr's Trials Card Back, which Divayth himself will use during the puzzles.
When you open the puzzle for the first time, Divayth will issue you a Divayth Fyr's Greeting: "Ah, a visitor! Come to match wits, have you? Or perhaps to plunder the dungeon? Tell you what: entertain me enough, and you can plunder all you want."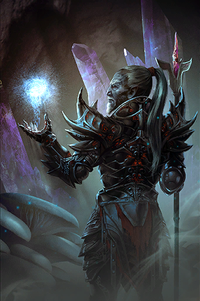 All five puzzles in the first row are available from the beginning. Each puzzle in the second row is only unlocked upon completing the puzzle directly above it in the table. Upon completing all of the puzzles in the second row, you'll be awarded with the Divayth Fyr's Trials card back, and will also receive Divayth Fyr's Approval: "You're not the least bit boring, are you? We must match wits again sometime. Here, I pulled this out of my treasure vaults especially for you." This also unlocks access to the final puzzle.