Legends:Naryu's Challenges
The UESPWiki – Your source for The Elder Scrolls since 1995
Naryu's Challenges is the second Houses of Morrowind Puzzle Set, released on April 5, 2018. It costs 1500 gold. It is named and themed for Naryu Virian, who first appeared in ESO.
Completing the puzzle set earns you the Naryu's Challenges Card Back, which Naryu herself will use during the puzzles.
When you open the puzzle for the first time, Naryu will issue you Naryu's Challenges: "So, you're looking to join the Morag Tong, hero? All right, I think I can show you the ropes. I've got ten challenges that'll show you some of my favorite tricks."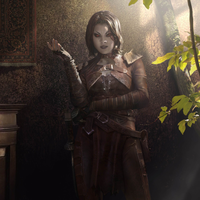 All five puzzles in the first row are available from the beginning. Each puzzle in the second row is only unlocked upon completing the puzzle directly above it in the table. Upon completing all of the puzzles in the second row, you will receive Naryu's Blessing: "My, my. You're a quick study, hero. As far as I'm concerned, we should start giving you writs to carry out. Next time, maybe you can show me a thing or two."