General:ESO Live
The UESPWiki – Your source for The Elder Scrolls since 1995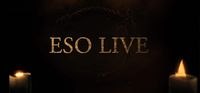 ESO Live is an official Elder Scrolls Online livestream series hosted on Twitch. The stream is run by ZeniMax Online Studios and has premiered semi-regularly since it first began in September 2014.
ESO Live is primarily a means of community engagement and usually features developer interviews, ESO gameplay, announcements, and giveaways. The stream is also used for worldwide premiers of major announcements, such as the release of Tamriel Unlimited or new Chapters. Since May 2018 ESO Live has made heavy use of ESO's Twitch integration by offering in-game drops and other promotional rewards to viewers.
List of Episodes
[
edit
]
This page or section is incomplete. You can help by adding to it.
For more information, see the help files, the style guide, and this article's talk page.
| Episode | Schedule |
| --- | --- |
| Episode 1 | In this episode, Community Manager Jessica Folsom and Assistant Community Manager Gina Bruno chat with Lead Writer Wynne McLaughlin, Assistant Art Director Mike Phillips, and fan-favorite artist SlayerSyrena. We also catch up with the guild leader of the Blue Skooma Roleplayers group, Ri'sari, and explore Dragonstar Arena with guilds Da Funk and Hodor alongside Lead Designer Greg Roth. |
| Episode 2 | Fan creation showcase featuring Principal Figure Artist Tatiana Malinko, Recap of the most recent ESO news, Upcoming events organized by fans, Interview with UI Designer Chris Strasz, Sneak peek at upcoming ESO merchandise, Hot topic discussion featuring Lead PvP Designer Brian Wheeler, Live developer Let's Play of Dragonstar Arena, More Tamrielic pronunciations |
| Episode 3 | Fan creation showcase with artist Jeremy Fenske, Current ESO news recap, Upcoming fan-created community events, Interview with Audio Director Brad Derrick, ESO merchandise sneak peek, Developer preview: Update 5 |
| Episode 4 | Fan creation showcase with Senior Concept Artist Mike May, Interview with TymmyD, Current ESO news recap, Upcoming fan-created community events, Interview with Systems Designer Joe Blackburn, Upcoming and current ESO merchandise, Live Q&A session with Creative Director Paul Sage |
| Episode 5 | Fan creation showcase with Concept Artist Joe Watmough, ESO news recap, Upcoming fan-created community events, Interview with PC Network Support Specialist Wayne Saunders, ESO merchandise sneak peek, Let's Play: Pledges featuring devs and community personalities |
| Episode 6 | Fan creation showcase with 3D Environment Artist Karin LaPadula, Interview with fan composer Armin Gutjahr, Life at ZOS with Associate Systems Designer Chris Balser, Upcoming community-run events, ESO merchandise preview and newly-added items, News recap and update |
| Episode 7 | News recap and update, Ask Us Anything, Fan creation showcase, Interview with fan artist Isriana, Life at ZOS with Content Designer Jason Barnes, Upcoming community-run events, Justice System Preview |
| Episode 8 | ESO fan creations showcase, Q&A from our Ask Us Anything on the official forums, Upcoming fan-organised events, Life at ZOS with Producer Andrew Frederiksen, Champion System Preview with Eric Wrobel and Maria Aliprando, Gameplay and Champion System live Q&A |
| Episode 9 | Fan creation showcase, Ask Us Anything, Upcoming fan-organized events, Merchandise showcase, Life at ZOS with Senior Programmer Ian Campbell, Animation revamp discussion with Lead Animator Ed Lynch |
| Tamriel Unlimited, ESO Plus, and console! | In this special edition of ESO Live, we join Pete Hines (VP of PR and Marketing at Bethesda), Matt Firor (ESO Game Director), and Paul Sage (ESO Creative Director) as they discuss The Elder Scrolls Online: Tamriel Unlimited, ESO Plus, and our upcoming launch on PS4 and Xbox One! |
| Episode 10 | Official News Recap, Ask Us Anything – answering your questions from the forums, Discussion about Update 6 and live gameplay with Lead Gameplay Designer Chris Strasz, Life at ZOS with Writer Zach Bush, ESO fan creations showcase, Chat with fan Livestreamer/Video Creator Deltia, Upcoming fan-organized events |
| Episode 11 | Official ESO news recap, Ask Us Anything – featuring your questions from the forums, The Fan Creations Showcase, Chat with Exile from ESO-Fashion, Update 6 testing discussion with Lead Combat Designer Eric Wrobel, Life at ZOS with Associate Systems Designer Doug Carroll, Upcoming in-game fan events |
| Episode 12 | Official ESO news recap, Ask Us Anything – more questions from the forums, Fan Creations Showcase, Update 6 & Beyond with Lead Gameplay Designer Chris Strasz, Life at ZOS with Senior Sound Designer Josh Smith, Upcoming in-game fan events, Interview with roleplay community leader The Human Floyd |
| Episode 13 | Official ESO news recap, Ask Us Anything—featuring your questions from the forums, ESO Fan Creations Showcase, Life at ZOS with Systems Designer Mandi Parker, Upcoming ESO Community Events, Meet the Questgivers with Zone Lead Greg Roth |
| Episode 14 | Official ESO news recap, Fan creations showcase, Life at ZOS with Software Engineer David Leeper, Ask Us Anything, featuring your questions from the forums, Upcoming ESO community events, PvP Q&A with Lead PvP Designer Brian Wheeler |
| Episode 15 | Official ESO news, Life at ZOS with QA Senior Tester Erik Mabry, Fan creations showcase, Ask Us Anything, featuring your questions from the forums, Upcoming ESO community events, Lore with Lawrence, ESO's own Loremaster |
| Episode 16 | Upcoming in-game fan events, Official ESOTU news, Life at ZOS with Zone Lead Zeb Cook, Ask Us Anything – questions answered from the forums, Fan Creations Showcase, Live Console Demo with UX Design Lead Gary Boodhoo |
| Episode 17 | Official ESOTU news, Upcoming in-game fan events, Ask Us Anything – questions answered from the forums, From Art to Zone with Senior Artist Jeremy Fenske, Fan Creation Showcase, Armchair Developer with Lead Programmer Colin McGinley, Animation Director Sean Miller, and Lead Gameplay Designer Chris Strasz |
| Episode 18 | Official ESOTU news, Collectible Creatures Fan Art Contest Winner Announcement, Life at ZOS with Lead Graphics Programmer Matt McCloskey, Upcoming ESOTU Community Events, Ask Us Anything, Funny Lore Bits with Lawrence Schick and Zach Bush |
| Episode 19 | Official ESOTU news, Upcoming in-game fan events, Life at ZOS with Senior Designer Robbie Stevens, Fan Creation Showcase, Ask Us Anything – questions answered from the forums, Live Console Demo with Console Executive Producer Erich Waas |
| Episode 29 | (?) (Wrothgar's Lore with Loremaster Lawrence Schick) |
| March 15, 2019 | (?) (Leamon Tuttle Introduction) |
| May 22, 2020 | (?) (Art and Lore of Greymoor) |