Arena:Dune
The UESPWiki – Your source for The Elder Scrolls since 1995
"Dune stands forever. Challenge our land if you dare, for we are the best blades of the south, and we will show any who come to our door adventure..."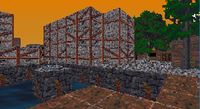 Dune is a city-state located in northwestern Elsweyr, close to the border of Valenwood. The ruler is King Ab'ir. Its rival is Riverhold.
Locations
[
edit
]
Inns

Black Dungeon
Black Mug
Blue Guard
Crimson Wolf
Devil's Griffin
Devil's Helm
Green Giants
Lucky Mug
Red Guard
Silver Wolf

Temples

Brotherhood of Charity
Brotherhood of War
Conclave of Charity
Order of the Gentle Hand
Order of the One Prophet
Order of the Red Rose

Stores

<random>'s Quality Equipment Store
<random>'s General Tool Store
<random>'s Gear Store
Elite Armaments
<random>'s Tool Store
<random>'s Armaments
<random>'s Quality Weaponry Store
New Armaments
Rare Equipment Store
Rare Merchandise
Shabar's Sundries
The Adventurer's Armaments
The Adventurer's Gear Store
The Adventurer's Supply Store
The Basic Armaments
The Essential Equipment Store
The Essential Gear Store
The Essential Provisions
The Essential Sundries
The Essential Supply Store
The Practical Accouterments
The Practical Armaments
The Practical Supply Store
The Practical Weaponry Store
The Wyrm's Equipment Store
The city-state Tool Store
Unearthed Equipment Store
Unearthed Gear Store
Used Provisions
Vintage Accouterments
Vintage Armaments
Dune is a possible starting location for Khajiit.