Skyrim:Windhelm Stables
The UESPWiki – Your source for The Elder Scrolls since 1995
This article is being developed as part of the Skyrim Houses Redesign Project. If you see this tag it means the article can still be improved. Please see the project page for guidelines.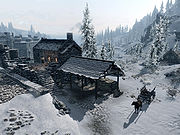 Windhelm Stables is a stable outside of Windhelm.
You can purchase a bay horse with white markings for 1000 gold from Ulundil. If Ulundil dies, his wife, Arivanya, will instead offer to sell you the stables' horses. It consists of one area only, Windhelm Stables.
Residents
[
edit
]
Exterior
[
edit
]
Two flights of stairs (one from stoney path leading to Windhelm and one from the carriage) are leading to a small stoney yard in front of the house where is a table outside the entrance door with winebottle on it. Between the table and the entrance are five foodsacks on the ground (two large, two normal and one small). Beneath the stairs connecting house and stables is one bottle of nord mead cooling in the snow, just out the way and some barrels behind. In stables itself in nothern corner are some barrels, four foodsacks (two large and two normal) and choping block (without woodcutter's axe which is to be found inside the house on the shelves just upon strongbox and unable to interact with) then two horses (of which one is saddled) and bales of traw. Outside stables along the road to Brandy-Mug Farm is manger containing one bottle of wine and some fire wood. Behind those along the eastern wall are some crates as well.
Related Quests
[
edit
]
Note: This location is one of many potential targets for one or more of the radiant quests found on this page.
Windhelm Stables
[
edit
]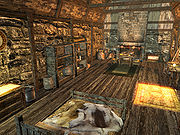 The stable building is one room only, with a double bed along the western wall. In the southwestern corner is a wardrobe with clothes and in the adjacent corner sits a dresser, also with clothes, and with the Business Ledger on top. Two sets of shelves decorate the northern wall and display a strongbox, a draught of strength, some leather strips, an iron ingot, two bottles of wine, a bottle of Nord mead, a wheel of eidar cheese, and two food sacks. Opposite the shelves, next to the front door, is a table with a few common books. The eastern part of the stable house is reserved for dining and has four food sacks, three large and one small. The dinner table is placed in front of the roaming fireplace and a cooking spit. The table itself holds some assorted food, a goat cheese wedge, two red apples, and two loaves of bread.