Morrowind:Undead
The UESPWiki – Your source for The Elder Scrolls since 1995
Ancestor Ghost
[
edit
]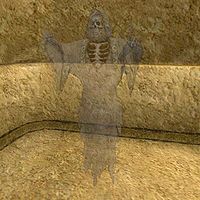 Typically found guarding tombs throughout Morrowind but can also be summoned by mages. The ghost is not particularly tough but it is immune to normal weapons. The spell to summon them refers to them as "Ancestral Ghosts".
Creature
Drops
Attacks
Soul
Ancestor Ghost


ancestor_ghost

Ectoplasm
23
100
100
100
100
(Common)
Ancestor Ghost


ancestor_ghost_summon


(Created by the Summon Ancestral Ghost spell)
nothing
Ancestor Guardian


ancestor_guardian_fgdd


(Vivec, St. Delyn Waist North-One)
nothing
220
280
(Grand)
Gateway Haunt


gateway_haunt


(Sadrith Mora, Gateway Inn: South Wing)
nothing
220
100
280
(Grand)
Ghost of Galos Heleran


ancestor_guardian_heler


(Heleran Ancestral Tomb)
nothing
40
100
100
100
100
(Common)
Kanit Ashurnisammis


ancestor_mg_wisewoman


(Favel Ancestral Tomb)
10 Gold
220
280
(Grand)
Mansilamat Vabdas


ancestor_ghost_vabdas


(Gnisis, Underground Stream)
nothing
220
280
(Grand)
Wraith of Sul-Senipul


wraith_sul_senipul


(Urshilaku Burial Caverns, Juno Burial)
Ectoplasm
Bonebiter Bow of Sul-Senipul
200
100
100
100
100
(Common)
Bonelord
[
edit
]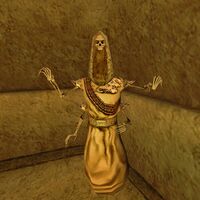 A revenant that is usually found protecting the tombs scattered throughout Morrowind.
Creature
Drops
Attacks
Soul
Bonelord


bonelord

1-10 Bonemeal
Lesser/Common Soul Gem
90
75
75
75
100

8-24 pts melee
Grave Curse: Speed - Drain Speed 2-4 pts for 60 secs on Target
Second Barrier - Shield 20 pts for 30 secs on Self

100
(Common)
Bonelord


bonelord_summon


(Created by the Summon Bonelord spell)
nothing
Bonewalker
[
edit
]
Another form of revenant that guards the tombs throughout Morrowind and can be summoned by magic users. Though not as powerful as other undead, the Bonewalker is feared for the terrible curses it can bestow on its foes. The Greater Bonewalker is a more powerful form of this creature which can also be found in graves and tombs throughout Morrowind. Like its lesser cousins, it may bestow powerful and hideous curses, but these effects do not go away, even if you kill them. Both versions also carry the common disease Brown Rot.
Dwarven Spectre
[
edit
]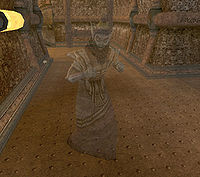 Ghosts of the Ancient Dwemer which can still be found haunting the halls of their ruins. The ghosts are typically sought as a source of Ectoplasm. Enchanted weapons or those of Silver or better quality are required to damage them.
Skeleton
[
edit
]
A common form of undead found guarding graves and tombs throughout Morrowind.
Undead in Tribunal and Bloodmoon
[
edit
]