Skyrim:The Dancer's Flute
The UESPWiki – Your source for The Elder Scrolls since 1995
This article could benefit from an image
of:
jpeg, non-transparent (in-game) background
See Help:Images for information on how to upload images. Please remove this template from the page when finished.
Unique Item: The Dancer's Flute

(

00

105109

)



Type
Clutter
Editor ID
DancersFlute
Statistics
 Weight
2
 Value
3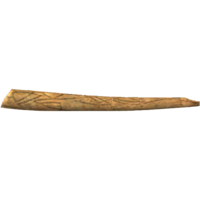 "Don't let this innocent-looking flute fool you, for this is the Dancer's Pipe. Legend holds that the Dancer's Pipe has won wars, toppled empires and changed the very course of history. None know its origins, but the stories say that men who hear its music are compelled to dance uncontrollably, no matter the peril. To activate this strange power, one must only speak the magic words, which are... Oh my, I very nearly got us both into a nasty predicament, didn't I?" — Calixto Corrium
The Dancer's Flute, also known as the Dancer's Pipe, is a flute on display in Calixto's House of Curiosities. In appearance, it is identical to a generic flute. It weighs the same, but it is worth less.