Skyrim:Alding
The UESPWiki – Your source for The Elder Scrolls since 1995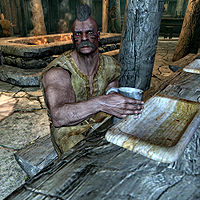 Alding is a Nord warrior. Along with Gjuk and Irlof, he forms the crew of Blood Horker Captain Stig Salt-Plank. He and the rest of the crew only exist during Rise in the East, after you give the logbook to Orthus Endario, where they are found in the Windpeak Inn, partaking in their regular "festivities".
After the initial scene plays out, he will be found sitting in place at a bench inside of the inn, enjoying a tankard of mead or eating bread.
He only wears a roughspun tunic with some footwraps.
When you enter the inn, you will find him and Stig harassing the local bard and barmaid, Karita:
Karita: "You beasts are the worst."
Stig: "Come now, dearie, surely we aren't all that bad."
Karita: "Just... leave me alone! I've brought your mead, now drink it and shut your filthy mouths."
Alding: "Oh, we've got other things in mind for our mouths, sweetie."
Related Quests
[
edit
]
While Stig mentions he and his crew will be retreating to Hammerfell, they actually remain in the Windpeak Inn for the rest of the game.