Shivering:Punishment Point
The UESPWiki – Your source for The Elder Scrolls since 1995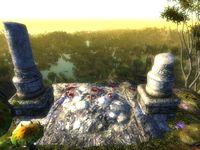 Punishment Point is a place where the remains of people who have provoked Sheogorath's ire can be found.
It is located far south of Camp Hopeful, north of Knifepoint Hollow, and almost due east of Split, on the border between Mania and Dementia. The area consists of a stone platform with two broken pillars on its southern side, and its northern edge embedded in the south face of The Jester's Spine Mountains. To the south one can see the vast expanse of the lands of Dementia, while New Sheoth is clearly visible to the southeast, and if looking due east reveals the Stairway of Sheogorath on the slope of Mount Sheogorath.
In this area, there are four skeletons, one Potion of Nighteye, one Strong Potion of Healing, one Poison of Illness, one Silver Dagger, one Decomposed Corpse, and one fresh corpse labeled Sheogorath's Punished.
Apart from the Mort Flesh on the Decomposed Corpse, none of the other remains have anything interesting or unusual on them aside from Sheogorath's Punished. On him you will find a Lesser Soul Gem, a Flawed Pearl, and a Death Decree stating that the departed's name was Robert Wisnewski and he was punished to the severest degree for attempting the growth of a beard. Apparently, this is an unlawful action in the Isles because only Lord Sheogorath himself may have a beard.
If you attack Sheogorath he'll teleport you far above Punishment Point, letting you fall to your death among the other corpses here.
This location is unmarked in-game. However, in an interview with RPG Vault, Robert Wisnewski, who was one of the artists that worked on the extension and the namesake for Sheogorath's Punished, refers to this location as "Punishment Point".[1]
Even if you have activated God Mode (tgm console command), you will still die from the fall as it is a scripted death.
References
[
edit
]