Online:Zav'i
The UESPWiki – Your source for The Elder Scrolls since 1995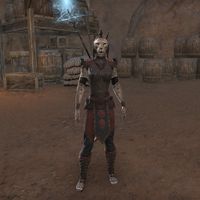 Zav'i is a Dagi Khajiit found inside the cavern of Red Hands Run along with her brother, Akumjhargo. Together, they lead the Red Hands bandit group.
Related Quests
[
edit
]
 A Dastardly Duo: Kill a notorious bandit duo and destroy their cache of contraband goods.
Skills and Abilities
[
edit
]
During a battle, Zav'i will use frost magic while she orders brother around to do the physical work.
Dialogue
[
edit
]
When she notices you, she will be annoyed with your interference:
Zav'i: "What's that? You fools wish to cut into our profits? No deal!"
Zav'i: "More delays? I hate delays! Kill them!"
Zav'i: "Nobody interferes with our business. Nobody!"
While fighting, she'll order Akumjhargo to do his spinning attack[verification needed — name needed] and her brother will comply:
Zav'i: "Kill them, now!"
Zav'i: "Cut them down!"
Zav'i: "Tear them apart!"
Zav'i: "Get them! Get them!"
If you kill Akumjhargo before her, she yells:
Zav'i: "Brother! Curse you, you meddling bastards. Curse you!"
When defeating her, she says:
Zav'i: "We could have … made a deal."
Achievements
[
edit
]
There is one Achievement associated with this person: