Online:Temple Acolyte
The UESPWiki – Your source for The Elder Scrolls since 1995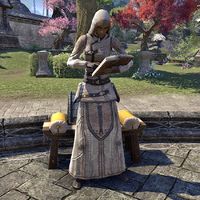 Temple Acolyte refers to one of two kinds of NPCs: Members of the Temple of Auri-El in Vulkhel Guard, and members of the Tribunal Temple in Ebonheart. The Acolytes of Auri-El are Altmer, and can be found around the premises, praying and tending to the grounds They can also be found in Glade of the Divines, during the quest Simply Misplaced.
Dialogue
[
edit
]
This article could benefit from an image.
See Help:Images for information on how to upload images. Please remove this template from the page when finished.
The Tribunal Temple Acolytes are Dunmer, and can be found in the Tribunal Temple within Ebonheart; praying, studying and doing their duties around the premises.
Dialogue
[
edit
]
Male Dunmer
"Sotha Sil lives always in the World-Mechanism. May he dwell there forever more. As he reshapes Nirn and guards the Dunmer."
"I know every tract in the Temple. I've read every prayer. And I still don't understand why good things happen to Argonians."
"Almalexia's blessing be upon you. Her grace will see us through the war of the Three Banners. Even if we do have to bring the Nords and the Argonians with us."
"Praise Vivec! I know the Master of Morrowind will keep us safe in the face of those brutish Daggers."
Female Dunmer
"Grace of the Three be upon you."
"I've met Nords. I've preached to Nords. I still can't understand half the words that come out of their mouths. What in the Mother's name is a "sveet roll"?"
"Praise Vivec! Hold the Master of Morrowind before you as a shield. He will keep you safe in your darkest time."
"The Mother will keep her children safe through this horrible war. A soldier told me he saw her face on the battlefield. And the next day, he slew a general in front of his troops! Her hand at work!"
"I acknowledge and love Sotha Sil, as befits one of the Three. But truly? The Wizard frightens me."