Online:Sailor
The UESPWiki – Your source for The Elder Scrolls since 1995
Sailor
Location
Auridon, Daggerfall, Glenumbra, Khenarthi's Roost, Mistral, Skywatch, Stormhaven, Tamriel, Velyn Harbor, Vulkhel Guard, Wayrest
Race
Varies
Gender
Varies
Reaction
Friendly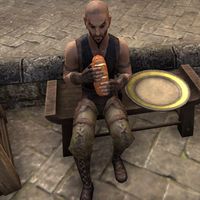 Generic Sailors of all races are found all around the port cities and ships of Tamriel. Most cannot be interacted with and cannot be spoken to, but there are a few exceptions.
Locations
[
edit
]
Dialogue
[
edit
]
Cat's Eye Quay
[
edit
]
The Sailors of Cat's Eye Quay will bemoan the loss of their ships after the storm, and voice their discontent with having to pass the time by fishing:
"Such a waste."
"I'm a sailor, not a fisherman. I wish we never came here."
"That storm couldn't have been natural."
"I guess the storm chased all the fish away too."
"What is a sailor without a ship?"
"I wish I was still on my ship... if it was still afloat anyway."
Auridon
[
edit
]
After completing Khenarthi's Roost, the sailors in Auridon will be replaced by Prowler Deckhands.
An Altmer or Bosmer Sailor found on the docks of Skywatch will tell you:
"Our next run, I'm going to volunteer for the crow's nest. Tired of stinking cargo, stinking crewmates, stinking captains. Bah!"
"You're no sailor. I can tell by the smell."
"Water looks different in every harbor. Love the shallows here."
A Khajiit Sailor found on the docks of Skywatch will tell you:
"Mmm. Have you ever tasted moon sugar rum? This one's not sharing."
"This one can't stand the grog in Vulkhel Guard. Can't wait to get back on the water."
"Don't know how Jone and Jode have touched you. But this one feels their pull even now."
"The sea has been kind to this one."