Online:Lienenarth
The UESPWiki – Your source for The Elder Scrolls since 1995
This article is about the Bosmer in the Shrouded Vale. For the Bosmer in S'ren-ja, see Lienanarth.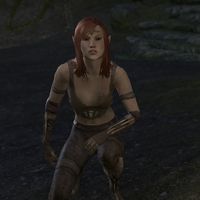 Lienenarth is a Bosmer found in the settlement of Shrouded Vale.
Dialogue
[
edit
]
"Not many of us work with stone. These foundations always need a bit of adjustment when we return."
Do all these buildings show up with your village.
"Of course! Where else would we live? Has something changed in Valenwood since we were last by? Surely they haven't done away with houses entirely in the last hundred years?"
There are still houses.
"Right! Things aren't so different, are they? Only difference is we come and go. Others stay in one place.
Do you see the flagstones about? My great-grandfather helped me place them when he was a lad, and our family's maintained them ever since."
So your family's been here for generations?
"Yes. Goes back farther than my great-great, of course, but he's the first of our line to pick up a chisel and hammer.
Come to think of it, I've never considered how old the actual village is. Goes back a long, long way, though."
Where does the village go?
"It goes where it always does, and then we return. According to legend, Shrouded Hollow has always gone visiting this way. They named Shrouded Vale after our village.
Maybe no one tells those old stories anymore. We shan't forget, ever."