Online:Legodir the Daunted
The UESPWiki – Your source for The Elder Scrolls since 1995
Legodir the Daunted
Home Settlement
Dragonstar Arena
Race
Bosmer
Gender
Male
Health
39959
Reaction
Justice Neutral
Pickpocket
Medium
Profession
Warrior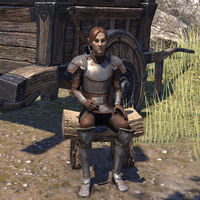 Legodir the Daunted is a fearful Bosmer warrior preparing for battle outside the Dragonstar Arena.
When spoken to, he'll say one of the following:
"I think this axe is too heavy. Does it look too big to you? I should have gotten a spear. A really long spear. Don't want to get too close when you stick an enemy, right? I heard the blood spurts all over the place."
"As long as no one hits me in the face, I'll be fine. I hate it when people hit me in the face."