Online:Iocundus Arius
The UESPWiki – Your source for The Elder Scrolls since 1995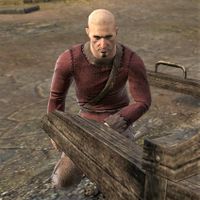 Iocundus Arius is an Imperial found in the city of Cheydinhal.
Related Quests
[
edit
]
Dialogue
[
edit
]
During the quest:
"You should get out of here. Imperial troops assume everyone new is here to support the rebellion."
I found this on a body.
"Give me that, quickly. If the Imperials see it, we're both dead!
Poor Belya. I'm afraid I lured him to his death. At least now I know not to wait for him any longer. Thank you for delivering this."
Post-Quest:
"This war will kill us all, I feel it in my bones."
Tell me about Belya.
"Since you delivered the note and didn't turn me in, I'm going to trust you. Belya was the best spy I'd ever seen. All the information we got about the Imperials at the start of the rebellion came from him."
But he left Cheydinhal?
"I made him go. The Imperials were on to him. I saw them watching him, following him around. I convinced him to get out of town, beyond the soldiers' reach. Now that we've fought the Imperials to a standstill, we needed him again."
Why are you on this side of the river?
"With Belya gone, we need someone spying on the Imperials. I'm not going to send anyone else to die over here, so I'm doing it.
So far, so good. But I feel eyes watching us. Go on your way please."