Online:Hilio Attius
The UESPWiki – Your source for The Elder Scrolls since 1995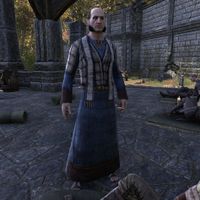 Hilio Attius is an Imperial healer who can be found in Cheydinhal. He is working to mend the wounds of those injured on the rebel side of Cheydinhal. He can often be found tending to Horonna Cantaber.
Related Quests
[
edit
]
Dialogue
[
edit
]
Once you arrive at Cheydinhal after finding the doctor's bag, Hilio will say:
"So many dead and wounded. No cause is worth this!"
I found a bag with your name on it.
"I thought I'd never see this again! When the Goblins attacked, I panicked and ran. If I'd known how desperately I'd need my instruments here, I would have held onto my bag.
Thank you for returning it to me!"
After returning the bag and completing the quest, he'll say:
"Even if I can save some of these wounded, the Imperials will just kill them another time."
What's happening here?
"Death and misery are what's happening. What does it look like?"
What's your part in this?
"My part? My part is to keep as many of these fools alive as I can, so they can go get stabbed again. Sound like fun to you?"
Why don't you leave?
"I can't. Even though I know they're doomed to die, I'll keep patching them up as best I can. If they're stupid enough to run back toward people who want to kill them, that's their problem."