Online:Henandan
The UESPWiki – Your source for The Elder Scrolls since 1995
Henandan
Home City
Woodhearth
Race
Bosmer
Gender
Male
Reaction
Justice Neutral
Pickpocket
Hard
Profession
Smith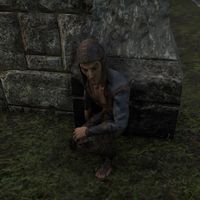 Henandan is a Bosmer smith found in the city of Woodhearth. He can be found in The Cat's Bazaar area of Woodhearth, and offers no unique dialogue.
Henanadan will, however, speak to Thaereledh occasionally:
Henandan : "Did you hear Queen Ayrenn's latest proclamation? Her brother is to be interred shortly. A royal funeral."
Thaereledh : "After all the trouble he's caused?"
Henandan : "It wasn't him. They've uncovered papers belonging to Pelidil and Kinlady Estre showing that they conspired with the Veiled Heritance to raise Naemon from the dead and use him as a figurehead."
Thaereledh : "There's no sin an Altmer can't erase with a little paperwork, eh?"
Although Henanden is listed as a "Smith" he has no mercantile options.