Online:Gilradil
The UESPWiki – Your source for The Elder Scrolls since 1995
Gilradil
Home City
Elden Root
Race
Bosmer
Gender
Female
Health
39959
Reaction
Justice Neutral
Pickpocket
Medium
Profession
Scholar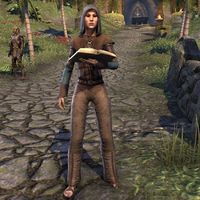 Gilradil is a Bosmer scholar found in the city of Elden Root. She wanders from the Great Tree Stables to Daraneth's Hut.
When spoken to, she'll say one of two things:
"I prefer to do my reading out here. Learned tourists pass by, and I can talk to them about theory and practice. I like that. I never know if I'm bothering them, though."
"Have you been to the Elden Root Mages Guild? We ensure our members are prepared for the Daedric and undead threats we're currently facing. It's nice there. a lot of open space to practice."