Online:Feldrasa
The UESPWiki – Your source for The Elder Scrolls since 1995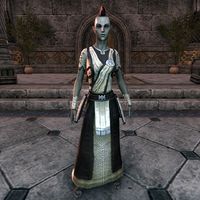 Feldrasa is a Dunmer Star-Gazer scholar who can be found on the ground floor of the Star-Gazers' Observatory.
If you speak to her after receiving the Star-Gazers' blessing, she will sound optimistic: "It's good to have another new face around here. I'm just a student that came to study with the Star-Gazers. I never expected I'd see an event like this! It's terrifying, but it could mean a chance to learn so much more about the Celestials."
When you speak to her after completing [verification needed — which quest(s)?], Feldrasa will say, "Hello. I understand you've been helping Hara study the Celestials. We're truly grateful for your aid."
When you speak to her after completing The Missing Guardian, Feldrasa will comment, "A real Celestial right here in the observatory. It's incredible. What a chance to learn! Do you think she'd obliterate me if I touched her?"