Online:Fara Garnona
The UESPWiki – Your source for The Elder Scrolls since 1995
Fara Garnona
Home City
Elden Root
Race
Bosmer
Gender
Female
Health
25974
Reaction
Justice Neutral
Pickpocket
Hard
Profession
Priest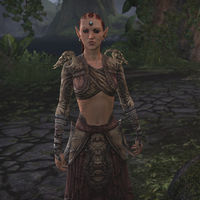 Fara Garnona is a Bosmer priest found in the city of Elden Root. She is found at Elden Root Temple worshipping.
"Y'ffre, the Singer, the Storyteller, who resides in the Now …."
"First of the Earth Bones, who sang the songs the seas and birds now carry in their hearts …."
"Spirit of the trees, who taught us both what it is to be a tree and how to sing the tree's own song …."
"We sing and spin tales here in Valenwood in honor of you, Y'ffre, for the lessons you have taught us …."
"For the songs you sang to us, and for those you sang to the other creatures of the wood …."
"For the spirit of the Chaos Times, when Mer were beast, bird, and tree, all …."
"And for the Pact, the kinship we share with beast and bird and tree, now."
"Well, that's done. Now, where'd I put my jagga? I need a drink."
Dialogue
[
edit
]
"Y'ffre the Singer is the most important god we worship. We know many people—especially other elves—place Auri-El higher, for Auri-El's province is that of time, in itself uninterruptible and majestic.
But Y'ffre is the Now, the living moment."
"The living moment is encapsulated within the song of every living creature, metered out by the pulse of its heart.
Your heart is your life's drum, the beat to which you always move and think. The Now is your life in any moment as you see it."
"So really, time as a concept is more relevant to the whole of Mundus, of course. Nobody is arguing that.
But people, by and large, think of themselves first. The Now resides above the Mundus in the consciousness of most. Thus its importance!"