Online:Eringor
The UESPWiki – Your source for The Elder Scrolls since 1995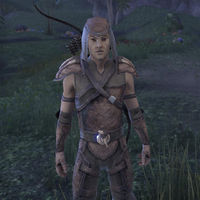 Eringor is a Bosmer member of the Brackenleaf's Briars found in the settlement of Brackenleaf.
Related Quests
[
edit
]
Bosmer Insight: Go on a spirit journey and learn the ways of the forest.
Quest-Related Events
[
edit
]
Approaching Brackenleaf, Eringor will run up to you. "Stop! Before you enter this village, a word with you." Talk to him.
"This is Brackenleaf's forest you're entering. Pick no fights and respect the shrines and you're welcome to stay as long as you like. Otherwise, you'll learn quick enough why they call us Brackenleaf's Briars."

Who is Brackenleaf?

"He's one of the first trees of Grahtwood, or so they say. When Y'ffre told the tale that created the world, she planted her words in the ground and there grew Brackenleaf. The Briars protect his heart and study the art of the hunt beside his roots."

And how does someone become a Briar?

"We turn no one away from trying, but it's no easy task. Staunch warriors and adept mages alike have faltered in the quest—you must become a fearsome hunter, willing to give your life to protect Brackenleaf. Our leader, Glaras, can tell you more."

I'll speak with Glaras.
This starts the quest.
"Glaras has been one of the Brackenleaf's Briars longer than any of us. She meditates in her tree home, among the trophies of past hunts."

Can you tell me more about Brackenleaf's Briars?

"We are named for the thorny thickets that the forest raises to protect its most delicate plants. But under the guidance of masters like Glaras we are trained to become skilled hunters and defenders of the great tree, Brackenleaf."

Why did you join the Briars?

"Glaras took me in when my mother and father died. When I came of age, I wanted to follow in her footsteps. Becoming a Briar shows you strength you didn't know you had, and that even the strongest—even great Brackenleaf—needs others."

What do you protect Brackenleaf from?

"From the beginning of time, there have been enemies trying to destroy Y'ffre's creation. They sought to take Brackenleaf's heart for themselves."

What is Brackenleaf's heart?

"Tales say the heart holds the power of Y'ffre, the same energy used to create the world. Brackenleaf blesses the Briars with some of this power, but as a gift. In turn, we protect the heart from those who would steal it."