Online:Egenthor
The UESPWiki – Your source for The Elder Scrolls since 1995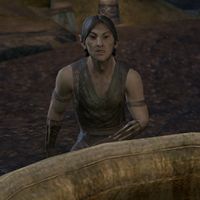 Egenthor is a Bosmer found in the settlement of Shrouded Vale.
Dialogue
[
edit
]
"Ah, good to see a fresh face. We villagers can get tired of just looking at each other after a hundred years."

Where did this village come from?

"It came from a place without hunger or suffering. A place where we live peacefully and without fear.
It's as unlike Valenwood as possible. But, to be honest, I'm not sure where it is."

What was Valenwood like when you were last here?

"I was only a child then, so I kept to the village. It can't have changed that much in the last hundred years, can it?
Now our scouts say there are Orcs beyond the cave, so I'm less inclined to venture forth"

But how does whole village move?

"We pack it up in a knacksack and carry it off, of course!
I don't think about it. We come back to Valenwood now and then, but are away for great stretches of time. It's just how things are."

Isn't there anything you'd like to see?

" Well. My family hosted travelers from a place called Gil-Var-Delle once. I would like to see it with my own eyes."