Online:Bristleneck War Boar
The UESPWiki – Your source for The Elder Scrolls since 1995
Originally from Solstheim, this tempestuous boar exists in two modes: hungry and hungrier! Given that it can carry gear, though, providing it with its favorite fungi is a small matter.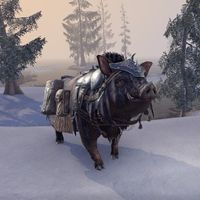 Bristleneck War Boar
Pet
Type
Inventory
Default Name
Grumblerush
Acquired From
Crown Store
Crown Crates/Unknown
Price
1,200 
960 (Discount)

Furnishing
Category
Non-Combat Pets (Inventory)
Quality

Legendary

Limit Type
Special Collectible
The Bristleneck War Boar is available in the Crown Store for 012001,200 

. It went on sale at a 20% discount (00960960 

) for all players from April 12 to April 15, 2021, and again from July 12 to July 15, 2021. Its default name is "Grumblerush".
When purchased, it increases the inventory capacity of each of your characters by 5. This increase is passive and there is no requirement to make the boar your active pet. This is the first time a vanity pet has provided tangible gameplay benefits.
Occurrences
[
edit
]
Appearances: 1
Crown Store - June 11, 2020
Crown Store - April 12, 2021 - April 15, 2021 (Discounted)
Crown Store - July 12, 2021 - July 15, 2021 (Discounted)
This pet was originally datamined with the default name of "Gruntly", and had the following description: "It may be hard to believe, but the ancient Nords were even more warlike than modern Nords, and had a way of weaponizing everything that came to hand, even their livestock. This was the origin of that most obstreperous of porkers, the Bristleneck War Boar."
Gallery
[
edit
]