Online:Abdussah
The UESPWiki – Your source for The Elder Scrolls since 1995
Abdussah
Home City
Hallin's Stand
Race
Redguard
Gender
Male
Health
25974
Reaction
Justice Neutral
Pickpocket
Easy
Profession
Beggar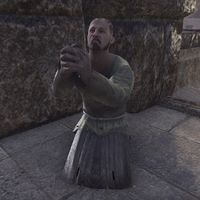 Abdussah is a Redguard beggar who can be found just inside the southernmost entrance to Hallin's Stand. When spoken to, he will say one of the following:
"I've an ache in my knees. A sand storm must be coming."
"I have heard that the fields of Cyrodiil are lush. What would they want this place for?"
"Generosity is a virtue of the Divines, O wayfarer."
"The Imperials would make all of our folk into beggars."
"One who complains about the quality of our wells has never drunk water from a hoofprint."
"Be beneficent, wanderer, and may Zeht enlarge you!"
"Hold fast to your family, wayfarer. You never know when they might be taken from you."
"Zeht's tears, we could use a little rain. The city gardens look worse than I do."