General: Natalia Smirnova Interview
The UESPWiki – Your source for The Elder Scrolls since 1995
This interview, conducted at the end of 2005 by ElderScrolls.Net, asked artist Natalia Smirnova about the development of Oblivion's interface. Smirnova has since developed the interface for both Fallout 3 and Skyrim. Courtesy of ESN (source).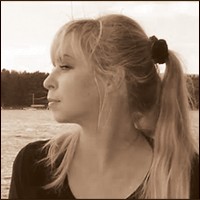 ESN: Greetings, Natalia. Usual question - a few words about yourself.
Natalia: Hello. About myself? - Well, we can talk forever about that :) But for short - I graduated from Moscow Technological Institute as a costume artist and worked for a while in that direction. One of my latest positions was in the multimedia company called Maris Multimedia Ltd. Then I moved to the States and started working for Vir2L Studios, one of Zenimax Media Inc, divisions. We were making web-sites, promotional campaigns, and interactive projects. Work there was a little different - one-time projects, very little time for each of them, extreme deadlines, all kinds of topics and technology. Then I got invited to the game division of Zenimax, Bethesda Softworks. I was not so eager to start there at first, thinking that making a project three years long can be boring. But I was totally wrong, game development sucks you in straight away.
I understood that I love teamwork, love when there are a lot of people around, discussions, demonstrations going on. You hear other people's opinions, think, and offer something yourself... It is an amazing thing, like a vital organism, and you are a part of it. It is even more noticeable now, when everything is boiling before the release.
---
ESN: Can you please describe what are you responsible for in TES IV and what are you working at.
Natalia: I made the entire interface for Oblivion - the artistic part of it - everything from the style creation to the very last tiny button. Besides that, I did a lot of illustrations on the paper. Also, I've created some artwork for the game's promotion. Overall, I had to hand-paint a lot of stuff, and paint in the special programs for 2d and 3d image and animation processing.
---
ESN: Is TES IV your first project or you've had any other ones before it?
Natalia: Yes, it's my first game project at Bethesda Softworks. Before it I certainly had a lot of other different projects, but that's for another interview ;)
---
ESN: When did you first learn about Elder Scrolls and Oblivion, and what do you like most of all in the game?
Natalia: Actually, my first experiences with The Elder Scrolls resulted in a very funny moment. At that time Redguard had just came out. I just started working at Zenimax Media and got the box with the game. I wanted to learn as much as I could about the company and certainly was eager to play all the games.
So one evening (actually, it was late into night as I remember) I was playing Redguard and wasn't able to get out of one dungeon. And the way it looked, the only option for me was to climb up the rope to the trapdoor. But no matter how hard I tried - I couldn't do it. And suddenly my instant messenger started to blink with messages from some of my Russian friends. It was already morning over there, so they were wondering what was I doing up so late. I was really focused on the game and answered them what I was really doing - trying to climb up the rope to the trapdoor! After that, my friends were very cautious in their questions :)
I learned about Oblivion at the very moment the project started. Oblivion for me is everyday work and it is too early to say what I liked in the game and what I didn't. We'll play - we'll see :)
---
ESN: Except Elder Scrolls, do you have any other favorite games?
Natalia: I sure do have my own favorite games. It is like a first love - can be naive and unrequited, but you can never forget it. For me it is Myst and Riven. And I also love playing small arcade games from time to time.
---
ESN: What were your main goals while creating the interface for Oblivion? How did the multiplatform nature of the project affect your work and the final result?
Natalia: I had two main goals while working on the interface - to make it looking good and to make it easy to use. Interface graphics should never be "pushing" the user or distract him. And at the same time the graphics should be bright and impressive, be easy to visualize and remember.
Because of the multiplatform nature of the project, I've created an additional set of buttons for Xbox360. They didn't change the style of the interface anyhow.
---
ESN: Looking at the screenshots, we can say that the interface now looks much more like in TES: Arena. Was it the original idea, to make it totally different from the previous TES chapter or it appeared during the development?
Natalia: No, it's not a coincidence and Arena-like nature of the interface is not a coincidence either.
---
ESN: What inspired you during the development and the creation of the certain interface elements? What is important for you in the art creation process?
Natalia: While working at such a project from the very beginning, from a clean piece of paper, you can do anything you want and the way you want. It will all be the way you'll make it up. For me, as for an artist, it is a very important moment in development. And surely you have to be trusted and think the same way as your producers.
Talking about influences, we have an interesting stratagem of different styles - starting with medieval European style and going all the way to the Russian art-deco of the beginning of the 20th century.
While creating a certain interface element, you have to keep a lot of things in your head all the time - what is that element for, what are it's requirements, what does the design documents say about it, how many buttons should this element have e.t.c. And the main thing - how to link all these into a unified style.
For an artist, it is important to be demanded, to see that all your creations are giving emotions, and it doesn't matter whether you're painting monumental canvases or creating art for the game. I have two definitions for the art - art, that excites and art that leaves the viewer indifferent. I always try to create the art that agitates the viewer, touches something inside him, and makes him think and feel. If those things do not happen, then the art becomes a rough fake, profanation. That is what one should always think about when starting a sketch or sitting down at the computer.
---
ESN: Were there any curious situations or interesting facts during the development you can tell us about?
Natalia: Don't know if you can call it a curious thing, but I'll tell about it anyways. Now and then I had tasks that no one could fully describe with words or documents - everything was based on associations or etc. Sometimes I managed to hit it right, sometimes I had to redo the whole thing several times. Here's a good example: I needed to create a set of skill images. I had a list with 21 skills and to tell you the truth some of them gave me a hard time. How would you visualize something like "alteration" in a single image? And what about "restoration"?! And it's one thing if the image you need to make is big, but if all you have is 32x32 pixels it's much, much harder!
---
ESN: And finally - any thoughts, concerns or wishes?
Natalia: Thoughts? - sometimes it seems that all the thoughts and fresh ideas are long gone, but you come to work the next morning and realize that it is far from the truth :)) My work at TES IV: Oblivion is drawing near the end - final touches, last changes. And because of that somewhere deep inside, very blurry and unclear, the new ideas for the future projects start appearing.
---
ESN: Thanks a lot for the great interview and good luck to you!