Books:The Elder Scrolls Online: Morrowind Collector's Edition Strategy Guide
The UESPWiki – Your source for The Elder Scrolls since 1995
Author(s)
David S.J Hodgson, Michael Owen, and Nick von Esmarch
Publisher
Prima Games
ISBN
9780744018257
Pages
384
Game
The Elder Scrolls Online
The Morrowind Collector's Edition Strategy Guide (also called the Morrowind Prima Collector's Edition Guide) is the official strategy guide for ESO: Morrowind, published by Prima Games.
Each physical copy comes with a slip of paper containing a code for a free digital version of the guide, which can be purchased separately from the physical version for $9.99 USD. It also comes with a code for a Rufous Mudcrab pet, alongside instructions on how to redeem it on Prima's official website.
Contents
[
edit
]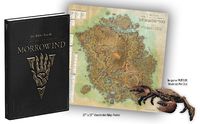 Includes:
A Rufous Mudcrab pet DLC! Explore Morrowind with the Rufous Mudcrab! This faithful pet will be by your side as you explore all corners of Tamriel.
27" x 27" Vvardenfell Map Poster: Features all important locales and resources.
Concept Art Gallery: Striking images of the new expansion.
Foreword from the Developer: A message to fans.
An Atlas of Vvardenfell: From the shores of the Bitter Coast to the hills of the Grazelands, every major point of interest is called out and cataloged for your reference. A true travel guide for the Morrowind expansion!
Character Builds: Hints and advice on constructing effective characters for your adventures in Vvardenfell. Featuring the new class—The Warden.
Adventuring Tips and Tutorials: Helpful overviews and information for new and returning players concerning leveling, attack rotations, crafting, and much more!
New Stories and Quests: Maps with walkthroughs that pinpoint and describe how to complete all of the new quests and storylines contained in the Morrowind expansion.
Free Mobile-Friendly eGuide: Includes access to interactive maps! Use the enhanced eGuide for strategy on the go, all optimized for a second-screen experience.