Arena:Imperial City
The UESPWiki – Your source for The Elder Scrolls since 1995
"You enter the Imperial City, the heart of Tamriel, and the seat of power for his majesty, the Emperor Uriel Septim VII."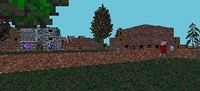 The Imperial City is a city-state and the capital of the Empire, located in the center of the Imperial Province, the heart of Tamriel. The ruler is Emperor Uriel Septim VII. Its rivals are Daggerfall and Evermore.
Locations
[
edit
]
Inns

Blue Bird
Crimson Pit
Howling Cup
Lucky Dungeon
Red Bird
Screaming Sword
Silver Griffin
White Pit

Temples

Brotherhood of Faith
Conclave of Charity
Conclave of Riana
Conclave of Solitude

Stores

Elite Armaments
Elite Provisions
Elite Weaponry Store
Rare Provisions
<random>'s General Tool Store
The Adventurer's Armaments
The Basic Equipment Store
The Basic Gear Store
The Basic Sundries
The Emperor's Supply Store
The Essential Provisions
The Practical Equipment Store
The Wyrm's Accouterments
The city-state Provisions
<random>'s Quality Merchandise
Unearthed Accouterments
Unearthed Supply Store
<random>'s General Supply Store
Vintage Sundries

Other locations
Typically, each city's citizens are the native race of that province. Although the Imperial Province doesn't have its own native race in Arena, the city's inhabitants use Redguard sprites and have random low-rank monster names.
There are no random quests in the Imperial City.