Oblivion:Light the Dragonfires
The UESPWiki – Your source for The Elder Scrolls since 1995
Quick Walkthrough
[
edit
]
Escort Martin to the Imperial Palace.
Catch sight of Mehrunes Dagon, and wait for your journal to update.
Run to the Temple, then watch Martin turn into an avatar of Akatosh and battle Lord Dagon.
Ocato names you the Champion of Cyrodiil.
Detailed Walkthrough
[
edit
]
The Circle Closes
[
edit
]
With the Amulet of Kings reclaimed and Martin Septim under safe watch, all that's left to be done is for Martin to relight the Dragonfires in the Temple of the One, resealing the barrier between Tamriel and Oblivion. However, there is still a matter of regal tradition: Martin wants the Elder Council's blessing to be accepted as Emperor without officially being an heir. For one final task, you must escort him to the Imperial Palace to complete the ceremony and end this ordeal at last. Upon arrival, High Chancellor Ocato greets Martin amiably and is about to officially accept him as Emperor when an exhausted and terrified messenger rushes in reporting Oblivion Gates opening inside the Imperial City's walls!
The Jaws of Oblivion
[
edit
]
The Daedra and Mythic Dawn have launched a last-ditch effort to achieve victory over the Empire. They have stormed the Imperial City and opened a multitude of Oblivion Gates. No sooner than the messenger stops speaking do Daedra burst through the doors to the council chamber and attack everyone within. With the help of the Palace Guards, the Blades and Ocato, they can be defeated quickly, though this is only the start of the epic battle. If Baurus and Jauffre survived the previous battles, they will aid you in this darkest hour as well. If Baurus is dead, Captain Steffan will take his place.
You would be wise to save the game before you exit the palace, and make any preparations you feel are necessary (repairing weapons and/or armor, making a few potions, healing your allies, etc.) Be warned that Martin is no longer marked as essential, and further, the game is over if he dies. Because he is only wearing the low-defense Emperor Robes, he will make easy prey indeed. It is up to you to protect him. Prior to entering the Imperial City, you could even reverse pick pocket onto him a zero weight mage's hood enchanted with fire-shield which he will don.
Once you have exited the Palace, you will be swarmed by a battalion of Daedra that will likely exhaust some of the help you receive from your companions. It is advisable to stay by Martin at all times, helping him kill whatever Daedra he attacks. If you can, use healing spells on him to keep his health up. If you do not have any, simply quickly killing Daedra will minimize the damage dealt to Martin and help him to survive.
After the Daedra in the Palace District have been dealt with, take a moment to rest and resupply yourself. Repair any broken equipment if you can, and take anything you may need from the bodies of the dead to replace whatever resources you may have used. When you are ready, lead the troops through the door to the Temple District. More Oblivion Gates open, spewing forth more Daedra. Instead of trying to attack them, rush to the right to be greeted by the sight of a group of Guards fighting futilely against a massive, red-skinned, four-armed, demonic creature wearing a spiked gauntlet and wielding an axe... Mehrunes Dagon himself!
The Last Stand
[
edit
]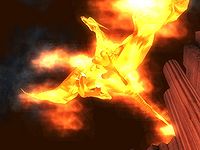 The plan has failed. The barriers between Tamriel and Oblivion have already dissolved - lighting the Dragonfires will do nothing now.
As soon as you get the quest update, run back outside the gate and meet Martin. In desperation, he tries rapidly to think of a solution. Mehrunes Dagon, as he explains, is an immortal, and can only be killed by another immortal. No matter how many Guards throw themselves at him, Dagon will never fall. However, from this, and your suggestion about using the Amulet of Kings, he forms a backup plan. He decides that all hope may not be lost, and that Dagon can be defeated - but Martin needs to get inside the Temple first. With both an Oblivion Gate and Dagon blocking the way inside, the only way there is past the Daedric Prince himself. If you can just get Martin inside, he will handle the rest.
There are a variety of ways to get past Dagon. Although you can't harm Dagon by normal means, you can "stagger" him, if you do enough damage in a single attack. The critical amount of damage is set to be one-half of your health (or 50 points if your health is less than 100). If a single attack does more damage than this, then Dagon will stagger backward and be unable to attack for roughly ten seconds, giving you an opportunity to run past. Another option is to count on luck: if Dagon is preoccupied by crushing the Imperial Guards beneath his heel, he may not notice if you simply run past him. Fortifying your Speed will help with this approach. You could also run behind the nearby building, following the outer walls of the district, and slip behind Dagon without him ever seeing you. You may also use an Invisibility spell or Sneak and Chameleon to easily slip past him. The key is to get to the Temple door quickly. Martin will follow, if you get there before your allies are overwhelmed and he is mired in battle.
Whichever option you choose, run inside the Temple with Martin in tow. When he enters, he appears almost relieved, and hurriedly explains his plan: the Amulet of Kings is infused with the Dragon God Akatosh's blood, and as Martin is a part of the Dragonblood, he may be able to use his joined blood, the Amulet, and the power of Akatosh's Temple to summon the power of the Dragon himself. He bids you farewell, gasps a thanks to you for all that you've done, and rushes atop the altar as Dagon smashes through the rooftop. Staring down upon the last Septim, Dagon menaces him, but Martin stands unafraid. Suddenly, beams of light burst forth from Martin as he shatters the Amulet of Kings and transforms into a gigantic, flaming dragon. Dagon and Martin - now the Avatar of Akatosh - clash, the two immortals battling for the fate of Nirn. Finally, Martin swoops down and buries his jaws into Dagon's neck, wounding him, and finishes him off with a breath of holy fire. Dagon falls, his physical form banished and the Oblivion Gates closed. Martin, however, pays the ultimate price for borrowing the power of Akatosh: he turns to stone atop the Temple Altar, an eternal monument to him and his bravery.
It is possible to keep Baurus and Jauffre alive during this mission, though it does not affect the ending (other than being able to hear their remarks). A good tip is to lure the Daedra over to the guards, to the captains or to Ocato (who is essential) to avoid getting them hurt. After you talk to them, they will both head back to Cloud Ruler Temple.
After this quest, you can receive the Favor of Akatosh blessing from the statue of the Avatar. This blessing fortifies both Personality and Luck for 30 in-game days.

There are actually two Avatar of Akatosh statues in the game world. Besides the one in the Temple of the One cell, the Temple District cell has its own fully-functional version. To reach it, find the window that the tail of the statue sticks out over, then jump on the sill. Look straight up at the tail, jump, and activate the statue at the apex of the jump. The two statues are considered different entities, so their blessings stack and you can get both in the same day.

Dagon has two attacks: swinging his axe and stomping. The axe causes around 50 damage while his stomp can cause over 100. This is quite useful if your Speed is high and there are a lot of daedra chasing you, for it can be fatal for them.
If you have acquired the Staff of Sheogorath from the Shivering Isles expansion pack, you can use it to freeze Mehrunes Dagon, allowing you safe passage past him.
Make sure that when you collect all of your loot, you don't leave anything you want in the street. Anything left behind will disappear once you talk to Chancellor Ocato.
An achievement will be unlocked after speaking to Ocato.
There are various methods of bypassing Dagon's programmed immortality and killing him yourself. If you do, because he has no death animation, his body will collapse straight downward as though melting. Additionally, he will continue to attack as if he were alive.

This issue has been addressed by the Unofficial Oblivion Patch; it is no longer possible to kill Dagon by exploiting glitches. His lack of a death animation is not fixed.
One method is use Damage Fatigue or Absorb Fatigue spells, or a weapon enchanted with them. Once Dagon's fatigue is drained (and he doesn't have all that much) he will collapse.
Another is to use the Wabbajack on Dagon, if you have it. It won't affect his appearance, but it will change his stats into something much easier to kill. This was supposed to be impossible, but the scripting on the Wabbajack to prevent it working on Mehrunes Dagon is faulty.
A third option is to use Spell Stacking. By alternating between two different Weakness To Magic spells, you can inflict Dagon with exponentially increasing weakness, eventually reaching the point where a magical attack one-shots him.
The kill console command will also kill Dagon, which is not a bug, but still leads to the bugged death non-animation.

Do not close the door in the Imperial Palace when you go to Ocato. If you do, the Imperial Legion messenger will not be able to reach Ocato, leaving you motionless.
Make sure that Martin makes it to the Temple District before you. Otherwise, he will stay in the Palace District and the guards will bar the gates so you can't get past and Martin can't get through. This can be fixed by running to the Temple of the One and waiting for 24 hours. This bug could be considered beneficial - Martin will stay out of the Temple District, along with everyone but Ocato. You can spend as long as you need to get through the District and as soon as you enter the Temple, Martin will simply materialize there.
After you ask Martin to wait for you when he tells you about his plan, it might look as if he disappears. You can actually find him (and Jauffre) mounted and waiting outside the Temple stables.
Journal Entries
[
edit
]
Light the Dragonfires (MQ16)
Stage
Finishes Quest
Journal Entry
0
5
I must escort Martin to the Elder Council Chambers in the Imperial Palace, to formally present his claim to the Septim Throne.
8
(Martin arrives outside the Palace)
9
(Baurus greets Martin)
10
We have arrived in the Elder Council Chamber. I must formally present Martin's claim to Chancellor Ocato, the head of the Elder Council.
14
On behalf of the Elder Council, Chancellor Ocato has recognized Martin as Uriel Septim's heir. Now all that remains is for Martin to light the Dragonfires in the Temple of the One.
15
(trigger for messenger to run up)
16
(stage set after messenger shouts to Ocato)
18
(stage set after messenger arrives to tell Ocato of daedra attack)
19
(stage set in Martin's last dialogue (give the daedra a head start))
20
The Imperial City is under attack! Oblivion Gates have opened all over the city and daedra are pouring out! I must escort Martin safely to the Temple of the One where he can light the Dragonfires, close the Oblivion Gates, and save the city!
21
(after conversation between Martin and Ocato, triggers packages to head for Temple)
23
(at least one dremora attacker is dead)
25
(player exits the Elder Council chamber)
26
(Martin enters Palace district)
27
(Martin enters Temple district)
29
(trigger Imperial soldiers to attack Dagon)
30
Mehrunes Dagon is here! The barriers between Oblivion and Tamriel have been destroyed! Our only hope now is to somehow defeat Mehrunes Dagon and cast him back into Oblivion. Perhaps Martin will know what to do.
35
Martin said that while mortal weapons may hurt Mehrunes Dagon, they cannot destroy him. He said that if he can only reach the Temple of the One, there is still a chance to turn defeat into victory.
40
Martin and I are inside the Temple of the One. I must get Martin to the Dragonfires, or all hope is lost.
45
(Martin reaches wait marker inside temple)
46
(player has spoken to Martin)
50
(Martin reaches altar)
54
(enable transformation and animate)
58
(disable entry)
60
(fight over)
65
(play outro bink)
80
Martin shattered the Amulet of Kings and transformed himself into an avatar of Akatosh, the Dragon God of Time. In dragon form he banished Mehrunes Dagon to Oblivion and ended the Oblivion Crisis, and then vanished. Whether he is dead, or has ascended to join his ancestor Tiber Septim, no one knows.
100
Notes
Not all Journal Entries may appear in your journal; which entries appear and which entries do not depends on the manner in which the quest is done.
Stages are not always in order of progress. This is usually the case with quests that have multiple possible outcomes or quests where certain tasks may be done in random order.
If an entry is marked as "Finishes Quest" it means the quest disappears from the Active Quest list, but you may still receive new entries for that quest.