Tes4Mod:Stirk/Telimian Kynarius
The UESPWiki – Your source for The Elder Scrolls since 1995
This page is currently being rewritten as part of the Oblivion NPC Redesign Project.
The page is being rewritten and checked in several stages. If you make an addition to this page, please update this template accordingly, but make sure you have observed the project guidelines.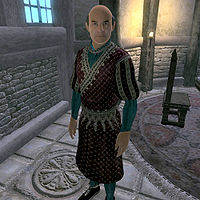 Telimian Kynarius is an Imperial noble who lives in his manor house on the island of Stirk.
Outwardly, Telimian's life is perfect. He is married, owns a nice house, wears an extravagant red velvet outfit and gold-trimmed shoes, and always carries a reasonable amount of gold. Behind the scenes, however, he has an addiction to Surilie Brothers wines that he refuses to acknowledge. After discovering his secret, the player can either profit from it or try to help him.
Telimian's addiction has evidently had a few side effects, as he requires a full ten hours of sleep to recover, from 11pm to 9am each day. At midday on Tirdas and Turdas he heads to the island's chapel to pray for six hours, sitting in a pew at the rear of the nave. His one meal each day is taken in his house between 6pm and 8pm. Outside these times he will stroll around his manor. The one exception to this schedule is when he joins the crowd watching the blaze in the chapel during the Father in Trouble quest. After this happens he still tries to worship there, but is obviously unable to do so.
Kynarius manor is found in Stirk's residential district, next to Stirk Manor and the Eulius Brothers' Book Store and across the street from Eulius Manor. Like most other Stirk manors, it is divided on two storeys: dining area on the ground floor and living quarters on the first. The dining room suggests that Telimian and his wife enjoy food almost as much as he enjoys wine: the dining table is laden with food placed on expensive silverware and so is another table to the right; a scale and the two Imperial Kitchen books helping the Kynariuses with their cooking. At the far end of the room is a fireplace and a cupboard containing up to three examples of upper class food. The upstairs landing is a small sitting area consisting of a bench, a bookshelf and a fireplace. Copies of The Emperor's Hand and of Redemption, volumes III and IV can be found on the shelf, while a silver longsword sits on the mantelpiece. The bedroom consists of a double-bed, a chest of drawers, a writing table, a dining table and some storage. On top of the drawers sit a blue silk shirt, a pair of gold trimmed shoes, a gold amulet and a jewelry box containing up to three pieces of jewelry (one enchanted; 10%) and a potion (10%). On the writing desk are a copy of Varieties of Thought, Volume II and The Seasons as well as a cure disease potion.
His wife will tell you "Telimian has not been acting like himself recently. What could have gotten into him?", but the other residents of Stirk know exactly what's wrong: "Poor Hannia Kynarius, I have no idea how she deals with her husband's alcohol addiction. That man needs help or their marrage [sic] will surely fall apart."
The first time you meet Telimian, he seems like a normal citizen and cheerfully greets you with "Welcome to Stirk, my name is Telimian Kynarius." Once you've heard rumors about his addiction, and his disposition towards you is over 40, Telimian will tell you "An addiction? No. I merely enjoy drinking Surilie Brother's wine. If you have any bottles, I would be glad to purchase them off of you. You might want to come back when my wife is out walking in the midmorning... she doesn't enjoy visitors much." If he doesn't like you so much, his response is less friendly: "I don't like your accusations, dear sir. Even if I did have a problem, I would not talk to you about it." If his wife is around, Telimian's guilty conscience comes into play, and he will say "What?! How dare you come here and accuse me of such things, and in front of my wife no less!" Once you have his confidence, he will ask "Do you have any Surilie Brothers to sell me?" or "Wine... what are you talking about...? Come back later." if Hannia is present.
When you try to sell him wine, his response depends on several things. If Hannia is in the house, Telimian responds "You're selling Surilie Brothers Wine? No thank you sir, good day." If you sell him Surilie Brothers Wine, he replies "The cheap stuff, but hey, it's still Surilies.". A bottle of Surilie Brothers Vintage 415 gets the response "Vintage 415. That was a good year." while for a bottle of Surilie Brothers Vintage 399, he will say "Vintage 399! Amazing, where did you find such a bottle?!" Once you've sold him six bottles of whatever type, the only response you get is "No more *hic* ... I ...I need to stop *hic*" If his wife catches on and gives you the fake wine, a contrite Telimian will say "One more bottle, that's it. This is the last one. Pfff... what is this?! Salt water? ...my wife knows, doesn't she. She put you up to this. Ever since we moved to the paradise in hell, I've downed any bottle of alcohol I can get my hands on. I can't stand it here... and I've tried to leave my mind in the bottles I drink. But my wife's right, I need to stop."
Related Quests
[
edit
]
I Drink Alone: An elderly noble likes his wine a little too much. Take pity or profit?