Tes4Mod:Stirk/Brodey
The UESPWiki – Your source for The Elder Scrolls since 1995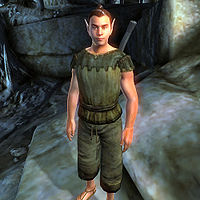 Brodey, a Bosmer thief, is a miner working in Stirk's gold mine.
He wakes at 6am and heads into the mine, where he wanders around for a couple of hours before beginning his work at 8am. He mines with a pickaxe for 10 hours without a break, next to a gold vein in the main Polle Gold Mine area. Between 6pm and midnight he surveys the mine area and then heads back to the Miners' Shack) for dinner. He eats until 2am before heading to bed once more. Once the mine closes after The Secret of Vassa quest, he will tag along with most of the miners and leave the island.
Brodey wears sack cloth pants, a flax tunic and sack cloth sandals. He also carries his pickaxe, some gold, a piece of silverware and has two 15% chances of carrying a random low-value item that can range from the useless (bones) to the surprisingly valuable (a grand soul gem).
When you first talk to him, Brodey will bluntly ask "I'm Brodey, what do you want? I can get it for you.. if you pay me enough.". When asked about Stirk, he may answer: "It's hard work in the mines, but I don't know anything about the rest of the island. We don't get out much."
In the CS, his ID is Brodigoth, his name was likely changed but his ID obviously wasn't.