Tes3Mod:Tamriel Rebuilt/Yenidan
The UESPWiki – Your source for The Elder Scrolls since 1995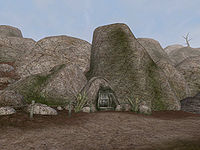 Yenidan is a small cave on the main road between Helnim and Firewatch containing an Orc barbarian.
The entrance is west of Mzankh and a long way east of Sadrith Mora, but otherwise there are no notable places nearby.
Inside Yenidan the most notable things are the 67 bloatspore plants that grow along the main passageway. Apart from those and the Orcish armor worn by the cave's solitary resident, Garstal gro-Azg, there is nothing of interest to be found.
| Name | | Race | Class | Level | Health | Magicka | Alarm | Fight |
| --- | --- | --- | --- | --- | --- | --- | --- | --- |
| Garstal gro-Azg | | Orc | Barbarian | 24 | 206 | 96 | 0 | 100 |