Tes3Mod:Tamriel Rebuilt/Thirr Valley
The UESPWiki – Your source for The Elder Scrolls since 1995
The Thirr Valley is situated in a great canyon surrounding the Thirr River as it makes its way north. Mushroom mangroves dominate the river banks and the landscape slowly shifts from the Aanthirin's orange-green to Shipal-Shin's red. Caught in politics and business, Hlaalu villages dot the landscape, and House Redoran has its furthest outposts here, keeping a wary eye on boat travel. — Tamriel Rebuilt
●

Thirr Valley Weather Table

●

●
Clear
15%
●
Thunder
5%
●
Cloudy
45%
●
Foggy
10%
●
Ash
0%
●
Blight
0%
●
Overcast
10%
●
Rain
15%
●
Snow
0%
●
Blizzard
0%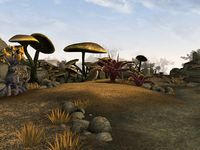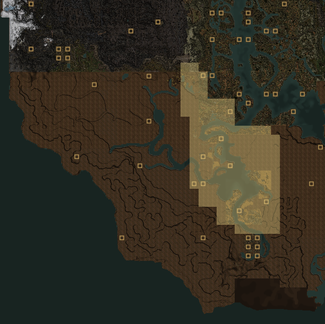 Thirr Valley is a region in the Narsis District of Morrowind, with a distinct yellow-orange landscape. Lake Coronati is centered in the valley, and the Thirr River flows north from its start in Narsis.
Its largest settlements are Othmura and Ud Hleryn. The region borders Aanthirin to the north, the Armun Ashlands to the northwest, the Othreleth Woods to the west, Shipal-Shin to the south, and the Deshaan Plains to the east.
It has not been officially released.
Unreleased Places
[
edit
]
These places are planned, in development, or partially complete and available through TR_Preview. Due to the ever-changing nature of unreleased content, only major locations on the concept map are listed here.
Settlements
[
edit
]
Towns (Tier III)
[
edit
]
Hlan Oek*
Othmura
Ud Hleryn
Villages (Tier IV)
[
edit
]
Hamlets (Tier VI)
[
edit
]
Ald Iuval
Ald Marak
Thavas Plantation
Daedric Ruins
[
edit
]
Dunmer Strongholds
[
edit
]
* This place is primarily in Aanthirin but a significant portion is in Thirr Valley as well.
Gallery
[
edit
]
See Also
[
edit
]